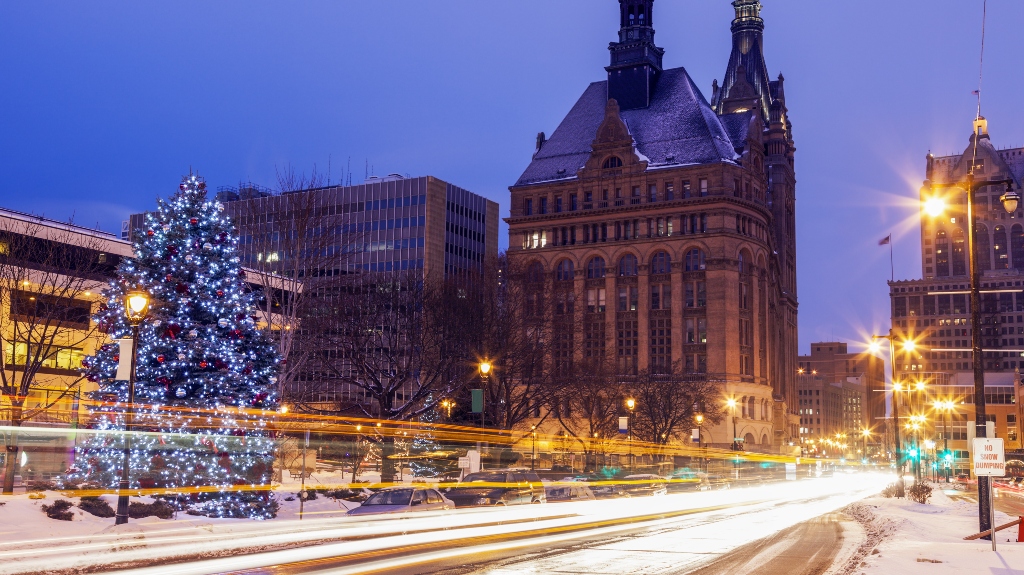 Christmas and the holidays are right around the corner. Exploring what the city has to offer during the holiday season is always an exciting time due to the amount of events you can take part in this year. That's why we wanted to share some of our favorite things to do with friends and family over the holidays in Milwaukee Wisconsin.
Wild Lights: Milwaukee County Zoo
When: Event runs from December 1 – 31 with the exception of the following dates: December 5, 6, 12, 13, 24, 25.
Where: Milwaukee County Zoo 10001 W Bluemound Rd Milwaukee, WI 53226
This is going to be the second year that the Milwaukee County Zoo will transform into an illuminated experience with millions of lights. The Wild Lights is a 1-mile long path that is lighting up the forests and pathways throughout the park. They have even added new attractions this year including sparkling sculptures of a gorilla, gazelle, rhino, zebras, and a dazzling peacock photo op.
When: Event runs from December 1 – January 2023 from 5:00 PM – 9:00 PM
Where: Boerner Botanical Gardens in Whitnall Park
One of our favorites we recommend for family and friends. Enjoy the fanatic drive through the holiday light show while enjoying the illuminated forests and fields of Boerner Arboretum and Whitnall Park. This year they will have a new Snow flurry tunnel and holiday gift bag giveaways. There will even be Holiday shorts videos nightly (if wind conditions allow).
Milwaukee Holiday Lights Festival
When: Event runs from now until January 1, 2023
Where: Pere Marquette Park, Zeidler Union Square and Cathedral Square
Welcome back to downtown Milwaukee as you explore all the sights and lights of what makes this city so special. By bringing people together during the holiday season you share in the joy and create memories with the people closest to you.
When: Shows run from now until December 24, 2022
Where: Pabst Theater
A Christmas Carol is a classic show that tells the story of Scrooge. The banker who has found little to know joy during the holiday season. With the help of the ghosts of Christmas Past, Present, and Future Scrooge goes on a journey of love, hope, and redemption in finding joy with the holiday season.
"Through its dedication to this holiday tradition, Milwaukee Rep creates a Christmas Carol that feels like coming home – warm and inviting, familiar and expected." – BroadwayWorld
Our team at Kingstad Law wants to share that we wish you all a happy holiday season and look forward to seeing you all enjoy what Milwaukee has to offer during the season. We are proud to be a part of this community and are always looking to help future clients. If you are wanting to talk with our team about any of our practice areas we offer a free consultation or call (414) 281-5500.